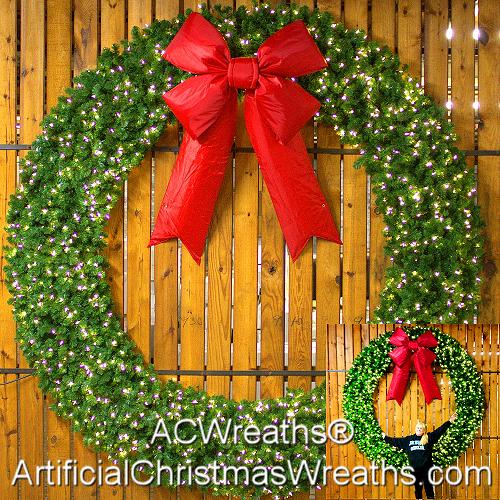 Wreath size: 96" x 96"
Bow size: 36"
Product Videos
Short video of how to fluff a Christmas Wreath
8 Foot (96 inch) L.E.D. Christmas Wreath with Large Red Bow
Artificial Christmas Wreaths
$1,499.95
1499.95
FREE SHIPPING | ESTIMATED DELIVERY

(Click)
More Details
PRICE INCLUDES LARGE RED BOW!
DELUXE 96" (8 FOOT) ARTIFICIAL CHRISTMAS WREATH
2940 TIPS
1200 ENERGY EFFICIENT WARM WHITE T5 L.E.D. LIGHTS
UL CERTIFIED INDOOR/OUTDOOR LIGHTS
LONG LIFE: UP TO 25,000 HOUR BULB LIFE
PLUGS DIRECTLY INTO OUTLET (no special adapter required)
NOBLE FIR
36" UV RESISTANT LARGE RED BOW
COMMERCIAL GRADE: HEAVY DUTY/LIGHT WEIGHT
WEIGHT: APP. 99 LBS
FREE SHIPPING!
For extreme strength, it is manufactured with 6 (six) heavy gauge wire rings as a frame. It is shipped in 6 pcs (4 boxes) and will require easy assembly upon receipt (nuts, bolts, and directions included).
Based on destination, the 8 Foot Wreath will ship via various freight services.

Please let us know in the Ordering Instructions box in our Shopping Cart if this is a commercial or residential delivery and if a lift gate is required. Thank you.

RETURNS:
TO AVOID A RETURN - PLEASE BE SURE TO ACCURATELY MEASURE THE AREA FOR WHICH YOU ARE PURCHASING THE WREATH.
Any return of an 8 Foot (96 inch) L.E.D. Christmas Wreath with Large Red Bow will have all freight charges and a 20% restocking fee deducted from the total refund.
Additionally, the wreath sections and boxes must be in original (new - unused) condition and sealed. They must be on a pallet, shrink wrapped and ready for a freight pickup.
---
Wreath Comparison Chart
If you need a little help choosing the right size wreath, have a look at our
Wreath Comparison Chart
for all of the information you need to help you make the right choice.
---
---
100% Satisfaction Guarantee
Artificial Christmas Wreaths® is dedicated to bringing you the finest quality, most beautiful commercial grade artificial Christmas Wreaths available. We are so confident that you will be satisfied with our products that we offer a 100% Satisfaction Guarantee.
In the unlikely event that you are not absolutely thrilled with your wreath, just return it to us and we will credit you for the full purchase price of the wreath.
Click here
to view our 100% Satisfaction Guarantee and Return Policy
Delivery/Shipment Estimate
Artificial Christmas Wreaths® ships all orders (24" to 6 Foot Christmas Wreaths) with our next scheduled UPS weekday pickup.
Click here
to view our UPS Delivery Estimate Shipping Map.
"...just want to let you know the customer loved the (8 Foot LED) wreaths... The customer will order two more! "
D.T. - Montreal, CA
---
"We received the wreath yesterday, Dec 2, and are very excited about it... Everyone will see it this weekend when it is hanging in the back of the Sanctuary. It is just amazing how elegant it looks. Thanks again and know it will be enjoyed by everyone in the congregation (about 250 members)
N.M. Women's Ministry President"
N.M.R. - Mesquite, NV
---
"I was pleased with the Christmas Wreath I ordered. I was very pleased with the response time to a question I have emailed and also with the order shipment and delivery time. Excellent job!"
J.R. - Scottsville, NY
---
-->