Shipment/Delivery Estimates
24" to 6 Foot Christmas Wreaths
Artificial Christmas Wreaths ships using UPS Ground Service or FedEx Home Delivery/Ground Service.
All wreaths are shipped free of charge in the continental United States*
All orders (24" to 6 foot) are shipped with our next weekday pickup.
When your order ships we will email you the UPS or FedEx tracking information so that you may track your delivery online.
*Alaska, Hawaii, and International orders will require additional shipping charges.
UPS and FedEx do not deliver to PO Boxes, AP0, or FPO addresses.
Canadian customers please use our website: www.cornercrafters.com -- Free Christmas Wreath Shipping to Canada

The following chart is for UPS Ground delivery estimates: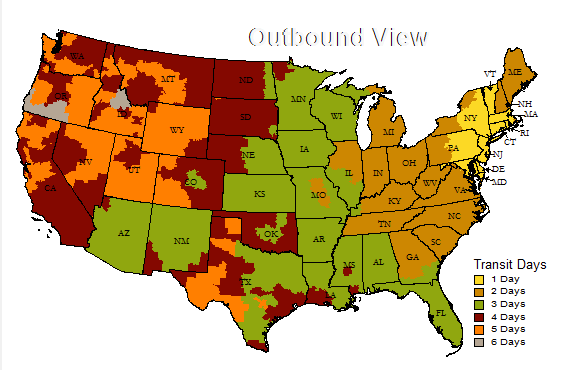 The following chart is for FedEx Home Delivery/Ground delivery estimates: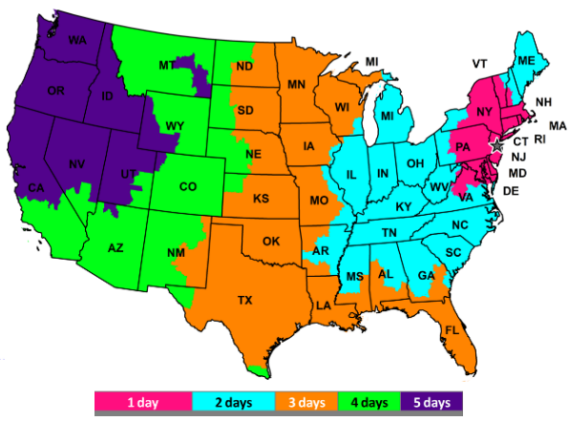 8 and 10 Christmas Wreaths
8 and 10 foot wreaths ship within 2-3 business days.
They are shipped using various freight services.
Freight companies will have their own specific delivery schedules and the above UPS and FedEx charts will not apply.
When your order ships you will receive your freight company's PRO tracking number and URL where you can track your shipment.
If for any reason it will take longer to arrange shipment (highly unlikely), you will be notified.