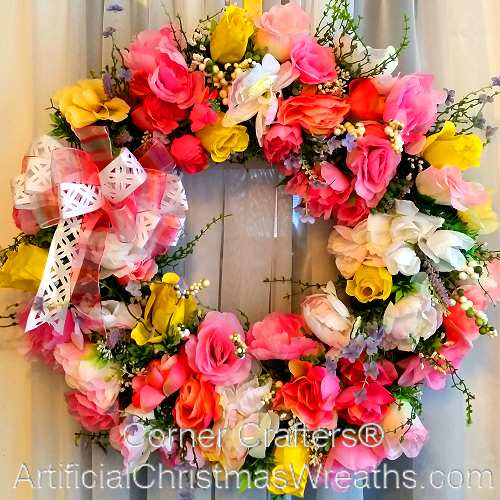 Rose Garden Mother's Day Wreath
Artificial Christmas Wreaths
$59.95
59.95
TEMP. OUT OF STOCK
Click here
to be notified when the Rose Garden Mother's Day Wreath is available.
More Details
A lovely assortment of colorful roses adorn this beautiful wreath that will look great for years!
Beautifully designed on a grapevine wreath base.
---
---
100% Satisfaction Guarantee
Artificial Christmas Wreaths® is dedicated to bringing you the finest quality, most beautiful commercial grade artificial Christmas Wreaths available. We are so confident that you will be satisfied with our products that we offer a 100% Satisfaction Guarantee.
In the unlikely event that you are not absolutely thrilled with your wreath, just return it to us and we will credit you for the full purchase price of the wreath.
Click here
to view our 100% Satisfaction Guarantee and Return Policy
Delivery/Shipment Estimate
Artificial Christmas Wreaths® ships all orders (24" to 6 Foot Christmas Wreaths) with our next scheduled UPS weekday pickup.
Click here
to view our UPS Delivery Estimate Shipping Map.
---
Testimonials
"I received my order today and I must say I am ecstatic. The Mothers Day wreaths are beautiful... Thank you so much and I do plan on ordering more seasonal wreaths from you in the near future. Again thanks so much and God Bless."
B.S. - Denver, CO
---
"I sent a wreath as a Mothers day gift and was told it was very nice!"
D.P. - Manassas, VA
---
"I ordered this as a surprise for my 78 yr old Mother. She was thrilled with the wreath!! She just loved it and was so impressed by the quality and the way it was packaged. She said that it was so pretty that she thought she might just leave it up year round. Thank you so much for your assistance in making this a very wonderful surprise !!"
J.C. - Richmond, VA
---